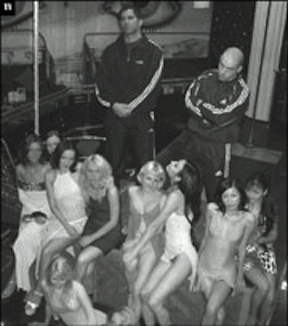 1. Tim Hecker - Ravedeath, 1972
Tim Hecker's forays into dissonance have undergone something of a maturation, the result being Ravedeath, 1972. I won't go into specifics - one will take from ambient music something else entirely from what another does. All that needs to be said is that this is essential listening, ambient fan or otherwise, and perhaps Hecker's best work yet.
2. PJ Harvey - Let England Shake
Let England Shake is without a doubt Harvey's most eloquent record. A singular theme, which is represented in both lyric and composition, is maintained throughout, creating a thematically dense and cohesive record. If there's a pop album that you need to hear in 2011, it's this one.
3. Fell Voices - Fell Voices
Fell Voices' second LP is again another excellent addition to the band's discography - many blogstalkers would have already heard the two tracks on here previously, as they were put in on a limited edition tour promo last year, but to have them out on LP was the band's original intention. This is again 'Casciadian' black metal, but much more authentic than a lot of the scene's other bands. Fell Voices are easily the most consistent of the groups that are associated with this style, and these two tracks are probably their best. Though it may seem daunting having over 40 minutes spread out over two tracks, the music here is highly engaging and very replayable. I've spun this record countless times since receiving it - it inarguably deserves the accolades that I or anyone else give it.
4. Soul Swallower - Devoured
I didn't know about Devoured until its release, and even when I first heard it I wasn't overly impressed. Still, I got my hands on the LP and before long I was playing it regularly. Sharing members with Mind Eraser, this group have been in hiding for several years while working on this LP, and their efforts have not been in vain. Heavy-handed hardcore with occasional PV elements thrusts this into any punk lover's conscience, and the songs themselves are all fantastic. One of easiest albums to listen start to finish in one sitting. Last but not least, those riffs. Goddamn.
5. Antediluvian - Through the Cervix of Hawaah
This was a bit of a late addition to my 2011 musical sphere, but I didn't expect this record to go past without my attention. After their great demo from ealier this year, I had high expectations and they have definitely been met. This is tentatively my favourite death metal record of the year, though I have not absorbed this to the same extent that I have Blaspherian and Cianide's releases. Taking a Portal-esque aesthetic and combining it with their own unique take on esoteric and occult black/death, Antediluvian have made a record which will easily be remembered for the rest of the decade.
6. Loss - Despond
Loss has taken their sweet time putting out an LP, but we've finally been blessed with one of the best funeral doom records in a long time. Despond takes everything the band has been working towards over the last decade and puts it all into one unforgiving and despondent album. Three earlier tracks have been rerecorded and put into a cohesive slab of funeral doom that is easily the best thing the genre has seen since Stabat Mater's self-titled. I doubt Despond will be topped in 2011 in terms of doom, though Worship is set to record its third LP later this year which will surely give it a run for its money. Vile gutturals, downcast melodies and a richly textured composition, this has everything it needs to be great. Perhaps now Loss will finally get the recognition it deserves.
7. Blaspherian - Infernal Warriors of Death
It took them four years of what I assume was profane contemplation, but Blaspherian have finally returned to the fold with the release of their first LP Infernal Warriors of Death. Earlier material such as Allegiance to the Will of Damnation certainly made a name for these Texan blasphemers, but I feel safe in saying that this is record is what the band has been working towards since its inception. Blaspherian model a very dense style of death metal on this record, one which is structurally impressive and very long-lasting - their method of contructing a motif and then making subtle variations in said motif is engaging and welcome. Overall, there is little to criticise on Infernal Warriors of Death, and a lot that will make fans of death metal gush over its cohesion.
8. The Men - Leave Home
The Men's first LP Immaculada was a really great record, one which I spin regularly, so Leave Home had a lot of expectations to meet. To put it bluntly, this easily matches the debut and in many respects exceeds it. The Men mix noise rock and hardcore with varying degress of intensity, incorporating influences from a host of other styles as well (from shoegaze to no-wave). While a lot of this record is ecentric in many ways, it is immediately appealing and doesn't get old.
9. Total Control - Henge Beat
Henge Beat is the long-awaited long player from Melbourne's premier synth punk group Total Control. After toying with their fans for several years with numerous EPs, the band have collected themselves and released an extraordinarly cohesive record to usher in the next stage of Total Control. Henge Beat takes the overly jarring synth punk from earlier releases and puts it into a much more palatable format. Several songs have been rerecorded, such as 'Retiree', and sound just as good as the earlier takes (if not better). Total Control essentially takes the energy of punk music and combines it with electronic tenets, at times giving it a strong (yet modern) post-punk vibe. The record excels when it is juxtaposing between its varying elements, and while being relatively short, encourages constant listening. Not to be missed.
10. Helta Skelta - Helta Skelta
I only got this LP several weeks ago but it hasn't left my player since I first heard it. Having released an excellent demo tape a couple of years ago, Perth's Helta Skelta seemingly went into hiding but popped back to life some time ago with the announcement of this LP. I knew it was going to be good, but I didn't think it would be as addictive as it is. Jangly surf punk meets 80s hardcore, in the best possible sense. Seeing them live just after I got the LP further cements my opinion that Helta Skelta is on the same level as both Extortion and Suffer.
Honourable Mentions
Seidr - For Winter Fire
Ash Borer - Ash Borer
Mournful Congregation - The Book of Kings
Scapegoat - Scapegoat
Corrupted - Garten der Unbewusstheit
Mental Powers - HOMOH
Dirty Beaches - Badlands
Grouper - A I A
Grinning Death's Head - Black Sun Rising
Preterite - Pillar of Winds
Bad Life - The Day You Die
Sutekh Hexen - Luciform
Meth Drinker - Meth Drinker
Martial Canterel - You Today
The UV Race - Homo
EP/Compilation/Demo/Split
(in no particular order)
Cremation Lily - Cremation Lily 1 & 2
Strongblood - The Beaten Paths of Youth
Total Abuse - Prison Sweat
God Harvest - Demo 2011
Cervix - Life Fucker Tour 2011
Tim Hecker - Dropped Pianos
Prosanctus Inferi - Red streams of Flesh
Wreck and Reference - Black Cassette
Blessed Offal - Blessed Offal
Internal Rot - Internal Rot
Cruciamentum - Engulfed in Desolation
Antediluvian - Revelations in Excrement
Bloodclot Faggots - Bloodclot Faggots
Willing Feet - Willing Feet
Crime Desire - Alone in a Dream
Crazy Spirit - I'm Dead
Iron Lung/Mind Eraser/Hatred Surge/Scapegoat - Brutal Supremacy
Grave Upheaval/Encoffination - Split
Sump/Sexdrome - Split
Abe Sada/Sub Ordnance - Redux/Organ Grinder
Other records I enjoyed over the year can be seen in this
list
.